It is ...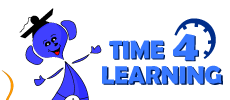 12 months ago: I was fortunate enough to have received a chance to review the Time4Learning online curriculum which the kids thoroughly enjoyed. You can read my previous review HERE.
2 months ago: 'Mum do you remember Time4Learning? I wish we could do that again'.
1 month ago: 'Hey kiddies, Mummy was chosen for the Time4Learning review again this year'. (Followed by deafening screams of joy).
This morning: 'What? We not going to have Time4Learning anymore? EVER'?
As you can see whatever this Time4Learning is, the kids enjoyed it last year and they enjoyed it again this year.
So WHAT is it?
Time4Learning is an online Language Arts, Math, Science and Social Studies curriculum for grades PreK to 8. It can be used as a full curriculum or as a supplement to an already chosen curriculum. This feature makes Time4Learning a versatile product that is good for Homeschoolers AND for kids in public school who need some extra work/fun.
This curriculum sports different kinds of activities which are fun and interesting.
Some of the activities are also project based e.g. it gives the student research opportunities and/or suggestions for further reading.
Other activities include reading several interesting pages about a certain topic and answering some questions.
Each year level has at least 200 different activities to be completed. Your child can sometimes choose which activities they want to do or you can assign specific activities for the day. The activities do follow on from one another. Students can also go back to previous activities and redo them if they choose to.
Each student gets a personal login from where they can do their lessons. Some lessons also include printable worksheets. Parents can follow the kids' progress by logging in to the Parent Centre. This is also where you can change your child's grade level, timer settings, generating certificates and add/delete students.
My son (Grade 3) and my daughter (Grade 5) both loved Time4Learning. The activities they engaged in most were the language arts and math. These were the preferred options for both of them. This is maybe due to us having a science curriculum that we are following at the moment as well as the history (which has a bit of reading to do - so they stayed away from some of the reading activities). When I asked them what they enjoyed most about it they both agreed that it was because: 'They made it fun and interesting'. 'The math was not boring'. (That's a big one)! As DS is in Grade 3 he logged in to the lower-level (K-3) and DD logged in to the upper-level (4-8). What my DD liked is that she was also able to personalize her 'home page'.
I did ask them if there was anything they did not enjoy about the program and they were also in agreement about: 'Some of the voices they use get annoying after a while'.
(Wouldn't it be nice if they could always agree on things?) ;)
For this review I was given one month's free access to the website.
I must say that at first it might see overwhelming as there is a LOT of information, however, this is such an extensive curriculum that it is worthwhile spending the time to get familiar with the detail to get the best of out it. I don't feel that I benefitted fully from this purely because of the limited time to really get to learn all there is to learn about this.
I recommend that if this remotely interest you go and spend some time on the website and learn about it.
You might want to start with the Sitemap where you will get a good idea of what is offered and which pages to visit first.
Then you can go to the DEMO page and have a look at some of the activities that are offered.
For a detailed overview of what each grade level has to offer you can go to this page HERE.
Time4Learning works on PC and Mac and even on Linux (as per the website) - you will need to allow cookies. Time4Learning requires FLASH so at this point will NOT work on an iPhone, iPad or iPod touch.
How much does it cost?
'The monthly membership is $19.95 for the first child and $14.95 for each additional child, with nothing else to buy. Your billing cycle begins on the day of registration and members are billed every 30 days, until you contact us to cancel. When an account is cancelled, members will have access to the program until the end of their billing cycle.'
As part of the TOS Crew, I received one free month to ''Time4Learning'
for review purposes in exchange for my honest, personal opinion. I received no other compensation. (Except for happy kids!)
As with anything in life, this is MY opinion. It is always good to see what others think. Please visit the Crew's Blog to see what my fellow Crew mates think of this product by going HERE.