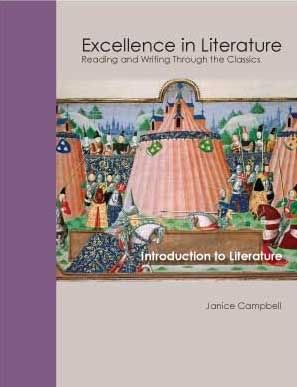 D
ISCLAIMER: A few weeks ago I was fortunate enough to have received a free downloadable e-book version of Excellence in Literature: Introduction to Literature from
Everyday Education
for review purposes. In exchange for this free product that I've used with my daughter, I provide
Everyday Education
with an honest, personal opinion of their product.


Janice Campbell is the brains behind
Everyday Education
. She is a veteran homeschool mum, the author of many articles and books (including e-books) and a conference speaker. She hosts her Blog here and you can also receive e-zine newsletters from her to further help you on your homeschool journey (especially with teens).
Excellence in Literature is a literature study series suggested for students in Grades 8-12. As my daughter is turning 11 in one week and hasn't done much literature study before, I wasn't sure how she would take to it. I was pleasantly surprised by how well it went and how much she enjoyed it.

In
Introduction to Literature
,
the
first of five books,
the text is mainly written to the student, since this is a self-directed course, and normally does not require too much input from the parent / teacher.
Although it
is written as a '
college-preparatory literature and composition course' for high school students, it can be used with younger age groups (with some parental input). This, I believe, is in part due to the excellent way this study guide is laid out and how
well concepts are explained.
In this book you will find the following:
A thorough introduction, explaining what is laid out in this course and what is expected from the students, what they might find helpful and why certain contextual work is included. It encourages students to work on time management and other organizational skills.

Chapters on:

How to read a book,

The different Literary Periods,

Formats and Models of what the completed assignments should look like (with

examples of each)

Context reading/work which includes biographies, music, art and poetry amongst others

9 Units which take four weeks each to complete.

Excellent literature

Great quotes

Excellent links to online resources within each unit.

Evaluation Rubrics and more
This first book in the series is a suggested one year course, although you can take it slower if necessary.
Before the student takes off and dives into the first story, Janice expects her/him to read some of the chapters from 'Introduction to Literature' FIRST. This will help the student to view the literature through different eyes and look for specifics, such as character names, formats for different chapters, etc. As I've done this with my nearly 11 year-old daughter, I have learned right alongside her. I've mentioned that you could take it slower and that's what we did. Learning to look at a piece of literature in a different way makes you realize how rich it is with hidden treasures. Although we have only done Unit 1 which focuses on short stories, Janice encourages the student
from Unit 2 onwards
to listen to music and look at art and poetry from the era when the works were written. This provides an understanding of the context behind the story.
Before we started the stories, we read the Chapter on 'How to read a book' where she was introduced to the 5 elements of fiction: plot, theme, character, setting and style and then w
e then read some of the mini biographies of the authors.
My daughter and I thoroughly enjoyed reading the stories together and I appreciated her re-telling the stories to her dad in the evening. As this unit contained 5 short stories, we did the first assignment together and she eagerly worked independently on the other assignments.
For the first short story she did what is termed an 'approach paper' (see below)
For the next 5 short stories we completed a 'literature summary' for each (as shown below).
The next assignment that she will do is a 300-word essay comparing two of the short stories.
Each lesson is laid out step-by-step so it is very easy to follow. So easy in fact, I plan to use this format with other books we read and I'm even considering using it with my 8 year-old son (with some tweaking).
Although Unit 1 focussed on short stories written by different authors in different eras, Units 2 - 9 use complete books for their focussed reading.
Each unit also has an 'honors' section for students who want to do more: For the honors students there is added reading, biography study of the author, approach papers and a research paper at the end of the year.
Literary works included in these units are:
Unit 1: Short Stories by-
• Sarah Orne Jewett:
A White Heron
• Edgar Allen Poe:
The Purloined Letter
(This one is not scary, if you're concerned about that.)
• Guy de Maupassant:
The Diamond Necklace
• O. Henry:
The Ransom of Red Chief
• Eudora Welty:
A Worn Path
• James Thurber:
The Secret Life of Walter Mitty
Unit 2: Around the World in Eighty Days by Jules Verne
Honors: 20,000 Leagues Under the Sea by Jules Verne
Unit 3: A Connecticut Yankee in King Arthur's Court by Mark Twain
Honors: The Prince and the Pauper by Mark Twain
Unit 4: Jane Eyre by Charlotte Brontë
Honors: Shirley or Villette by Charlotte Brontë
Unit 5: Pygmalion by George Bernard Shaw
Honors: Murder in the Cathedral by T.S. Eliot
Unit 6: Treasure Island by Robert Louis Stevenson
Honors: Kidnapped by Robert Louis Stevenson
Unit 7: Animal Farm by George Orwell
Honors: 1984 by George Orwell
Unit 8: The Tempest by William Shakespeare
Honors: A Midsummer Night's Dream by William Shakespeare
Unit 9: Gulliver's Travels by Jonathan Swift
Honors: The Pilgrim's Progress by John Bunyan
To view a Free Sample of 'Unit 3' from 'Excellence in Literature: Introduction to Literature', click
HERE
Cost:
You would think that a year-long, in-depth course like this will be expensive, but it is NOT!
I received the 132 page e-book which retails for a mere US$27.
You can purchase a printed copy for US$29 + $4.95 Priority Mail shipping; 8.5 x 11"; 132 pages.
Each book in the series retails for the same price as above if you purchase them individually.
The complete curriculum retails for US$135 (digital copy) or US$139 + shipping (printed copy).
All orders go through a secure site. (CLICKBANK)

Other books in the EIL curriculum include:

(download a quick overview of the entire curriculum HERE)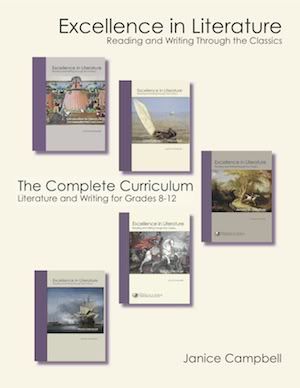 Janice has also written other books and you can view a complete catalogue of all her products
HERE
.

As with any other review / opinion, mine is but one of many.
Please visit the Crew Blog HERE to see what others thought of this product.
You can contact Janice via:
e-mail - jceved @ comcast . net (without all the spaces)
snail mail -
Janice Campbell
Everyday Education, LLC
P.O. Box 549
Ashland, VA 23005
USA
Blessings,