The Story of Swan Lake cd cover
DISCLAIMER
: As part of the TOS Review Crew I received a FREE copy of "
The Story of Swan Lake
" on cd in exchange for my honest, personal opinion. I did not receive any other compensation (unless you count enjoyment).
"The Story of Swan Lake" is a product form

Maestro Classics'

TM

"Stories in Music

TM

"

series.
It is suggested for children ages 6+ and their families (but I think even those younger than 6 can enjoy this).
This product (the cd) retails for US$16.95, but is also available as a MP3 download for US$9.98.
Now if you don't like ballet (and I can't imagine why not) then, please DON'T RUN a mile when you read the words: "Swan Lake"! This is NOT the ballet, but a beautiful story about a prince who falls in love with a princess (who has been turned into a swan). Only his love for her can free her from the spell she is under. This story is read to the inspiring music of Tchaikovsky. The cd however does not only contain the story of 'Swan Lake' but several other tracks as well (stay tuned for more information).
My children and I LOVE the music of Tchaikovsky so I was thrilled when I was chosen for this review. We waited anxiously for the arrival of the cd of "The Story of Swan Lake" and finally it came. The package was well wrapped so ripping was out of the question. Scissors! Finally the cd was freed from the bubble wrap and safely in my hands.
See:
The first thing I noticed was the bright, colorful graphics (as if in a story book) on the outer and inside covers. The bold colors and fairy-like pictures invited me to open the cover and to reveal it's contents. A cd (yes, I know, we all expected that) AND a booklet! (Did not expect that!)
The booklet contains the following:
A dot-to-dot picture.
A maze.
A crossword puzzle.
The beginning of The Story of Swan Lake, typed up with pictures substituting some words.
Lyrics and music score to a sing-a-long song you will hear on track 5.
Interesting Facts about Tchaikovsky.
Interesting information about the people who made this cd possible (composer, producer & narrator & Joe Stump who plays Speed Metal Swan ... now don't look so confused).
Information on two different kinds of guitars.
Something about Majors (not the military kind) and Minors (not kids).
The cd has 7 tracks which includes a total playing time of just over 54min. The story itself is 33:16.
The music of Tchaikovsky is skillfully played by the London Philharmonic Orchestra, conducted by the creator of Stories in MusicTM, Stephen Simon, while the story of Swan Lake is eloquently told by Yadu aka Dr. Konrad Czynski (track 1). Bonnie Simon (Co-creator and Executive Producer of Stories in MusicTM) is the elucidator (I had to look up the word) who enlightens us about Tchaikovsky's life (track 2).
Track 3 was a bit of a surprise, but a pleasant one. It is a more up-tempo, heavy metal version!! of the well known 'Swan Lake op. 20'.
In Track 4, Maestro Simon tells us more about the music.
Tracks 5-7 are dedicated to learning a sing-a-long song composed and written by Mr. & Mrs Simon.
The one and only negative comment I heard form the kids about this cd was that the voice of the narrator was very monotonous. However, this did not stop them from listening to the story several times (including twice in a row on some days)! I thought that the narration could have been done a bit faster with more inflection, but it grows on you and we've listened to the cd many times.
Track 3 was a definite favourite and the kids enjoyed listening to the story of Tchaikovsky (track 4).
You can follow this link
HERE
and listen to a section of all 7 tracks!
Learn:
This cd (with the booklet) makes for great learning and if you add the amazing information on the website you cannot go wrong in purchasing this product.
The website contains an
Education Materials
section wich includes curriculum guides specifically for homeschoolers (covering all subjects for pre-school to middle school), music lesson plans (grades 1-5) and home projects!
Stories in Music

TM

Series include

:
Peter and the Wolf
The Story of Swan Lake
Mike Mulligan and His Steam Shovel
Casey at the Bat
Juanita the Spanish Lobster (English & Espanol)
The Sorcerer's Apprentice
A Soldier's Tale
My Name is Handel
Tortoise and the Hare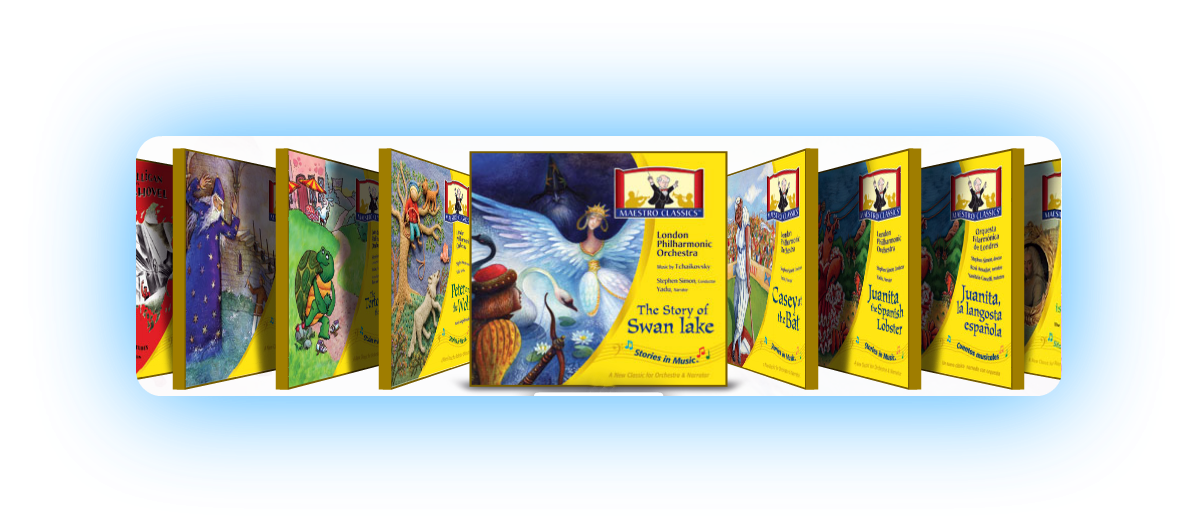 Like with any other product, mine is one opinion of many. Visit the Crew Blog
HERE
to read what my fellow Crew Mates thought of this product.
Blessings,