The mention of these two words can cause fits of laughter, screaming, uncontrollable sobbing, a rolling of the eyes or deep and anxious sighs amongst many other responses in any given home....
Math - Like it or loath it, we all have to at least know the basics of it. Without a solid grasp of the four math operations (addition, subtraction, multiplication and division) there is no way that you are going to get very far.
As part of the TOS Review Crew I received a free trial of an
'
Intelligent Math Facts Game
'
called
MathRider in exchange for my honest opinion about this product. I did not receive any other compensation.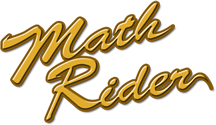 is an 'Intelligent Math Facts Game' for 6-12 year olds, that might be the answer if you experience any of the above responses to the words: Math Facts
The program was created by a dad who's kids struggled with Math! How completely amazing is it to be able to use a product, created by someone who really understands. And it works.
But what is an 'Intelligent' game? Well, I can't say it better than the creator of MATH RIDER, so here it is 'from the horse's mouth':
"Ride your horse on noble quests through the magical MathLands. MathRider combines fun math game play with a highly sophisticated question engine that adapts to your child. The game propels your child to mastery of all four math operations using numbers 0 to 12 in record time."
Step 1 is to set up your player. The game supports multiple players, each with their own login.
This is your opening screen.
On this screen you can choose to view your statistics, practice math facts or do a quest. During the practice runs you can choose multiple operations and how many questions the child will get. So you can choose to practice addition and subtraction (or multiplication and division or all four) in the same run, choosing any number between 5 and 30 questions to answer. The practice runs do not affect the statistics of the actual Quests.
Choosing your practice runs
After your child has practiced it is time for the Quest! Your mission should you choose to accept it is to ....
... find a flower (easy) to eventually rescuing the princess (master level).
All four operations have four quests moving from easy to master level. During the quests the child will ride on 'Shadow' through different lands with great backdrops. As they ride the math fact will appear under each pole. The child types in the answer and hit the enter key. If the answer is correct the horse will jump over the pole (made of flowers in the first quest). If the answer is incorrect or not entered at all, 'Shadow' will stop and the equation will be spoken out and appear on the screen. This way your child will hear and see the math equation. The facts the child struggles with will be repeated throughout the quest. The program tracks your child's progress in different ways. The statistics screen will point out which facts are mastered and which needs more practice. During game play the child's typing speed is taken into account. If the child answers slowly, 'Shadow' will slow down. If your child answers quickly and accurately, 'Shadow' speeds up.
'Shadow' by the firs pole.
At the end of the race a bar graph appears which indicates how well the child (or parent) did. The graph is colour coded.
Graphs at end of run.
Clicking on a bar shows you the math fact.
At the end of each quest the child is given a reward. The rewards are different for all the quests and is animated.
My first reward: The addition flag is raised!
What did we think of the program?
I was very excited about this as my daughter loves horses and we are focussing on getting math facts mastered.
The kids enjoyed the program. My daughter responds less well to timed math quizes so it took a bit of encouraging to keep her going at first, but the rewards at the end of the quests definitely helped with that. Having the visual cues as to how they progress also made a big difference in building up their confidence and encouraging them to continue.
In hindsight, I would probably start with fewer than the 30 math facts to answer.
The only negative criticism I received about the program is that my daughter found the voice annoying. She is a more visual learner and gets frustrated by certain sounds at times. She found she played better with the sound turned off. My son on the other hand was not bothered by it.
I am pleased that even after my trial expires we still have access to the practice runs which the kids will continue to use. This is a program that is worth looking into if you have children who need to brush up on their math facts.
I LOVE, LOVE, LOVE those who are so confident in their program that they offer a 'Try before you buy' option. You can sign up for a FREE 7-day trial by visiting
http://mathrider.com/trial.php
MATH RIDER normally retails for US$47, but currently (until February 15) the creators of MATH RIDER is running a special offer for only US$37. BUT if you are not happy with it, they even offer a 30-day money back guarantee!
Not only do you get a great program, but when you visit the MathRider website you can visit the BLOG where you can read interesting articles on yes, math, but also on parenting in general and why you just cannot divide by zero!
The wonderful people of MathRider can be contacted at:
Sharper Edge Pty Ltd
31 Hannah Street
Beecroft NSW 2119
Australia
Phone: +61 2 8005 8531
Office hours: 9am to 5pm (East Australian Time – GMT+10), Mon-Fri
Math Rider is available for Mac, Linux and Windows operating systems. It is easy to install and we have experience no technical problems with the program. Free updates are also available after you purchase the program.
As always, this is my own opinion and one of many. Please visit the Crew's blog HERE to read what my fellow reviewers thought of this product.