Product information:
Action Alert is an Internet Safety Software Program downloadable from their
website
. It offers web site blocking and filtering, time control options and alerts the parent via e-mail or cell phone when certain key words are typed into a search string. When you receive an alert you have an option of shutting down the computer remotely from your phone or computer. Action Alert can recored up to 60 hours of activity.
Action Alert is available in two versions
:
The Free version offers basic protection for one computer.
The Maximum Protection version, which includes Multiple User Protection, Full Social Network Monitoring and is Fully Customizable, retails for US$29.99
Disclaimer: As part of the TOS Review Crew I received a free download of the Maximum Protection version of this Internet Protection Software.
Action Alert offers the following
: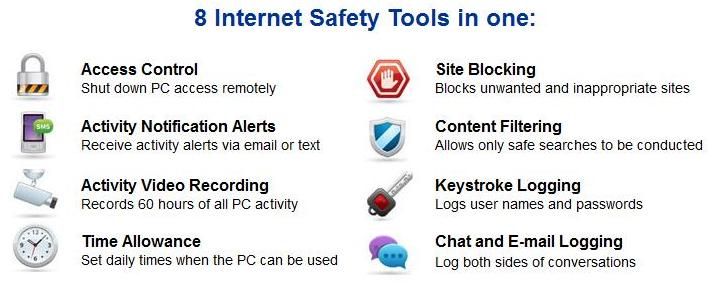 Action Alert was voted Winner of Disney's iParenting Award and is endorsed by the Child Safety Network.
Here is a list of
FAQs
about Action Alert.
How it worked for us:
We installed this software on our home computer on which we do most of our school work, play games and watch movies. This computer runs on Windows 7. I liked the fact that it alerted me via e-mail when certain key words or phrases were entered into a search string, which I did on purpose to see how that feature works. Unfortunately for us, Action Alert seemed to have caused some problems in that since installing the software, the computer has been slow in responding and at times just hanging in the middle of running some programs. At times I've had to try open some programs several times before it would actually run on the computer. I contacted support and they responded within 48 hours. Our problems however continued and as my husband is in IT we've decided to uninstall the program. Uninstalling the program was easy. Since doing so, we've had no more problems on the computer.
Our problems do not discount that Action Alert could be a very suitable program for you. It might work very well on your home computer. Please visit the
Crew Blog
to read more reviews on this product and get a broader idea of how this product works.