DISCLAIMER
:
As part of the TOS Review Crew I recently received a free 2-month subscription to the Reading Eggs Website / online reading programme in exchange for my honest opinion about this product. There was no other compensation.
The views express in this writing is my own except where otherwise stated. As this is one opinion of this product, I encourage you to visit the Crew Blog where you can read more reviews from other crew members to get their view on this product.
WHAT IT READING EGGS?
Reading Eggs is an online world created to assist children on their reading journey. This world which started out as a programme for children aged 4 - 7, grew in popularity and now features Reading Eggspress for 7-13 year olds.
Reading Eggs was created by educational experts with the aim of encouraging children who are learning to read to gain confidence, have fun and increase their reading skills. The program makes use of online games, reading activities, online books, assessments and other tools to make learning to read fun and exciting. Reading Eggs now has 120 lessons for the young readers.
Reading Eggs / Reading Eggspress retails for:
6 months subscription - AUD$59.95 ($9.99/month)
12 months subscription - AUD$79.95 ($6.67/month)
24 months subscription - AUD$99.00 ($4.12/month)
From the website:
* Your second child receives
a 50% discount
when purchasing the same subscription in the same transaction.

How does it work?


Your first port of call for Reading Eggs (4 - 7 y.o.) is the 'Reading Eggs Placement Test'. This is to assess your child's current reading level; it is audiovisual and has 40 questions. You can choose to do the test if the student has some reading experience or start from scratch at level 1.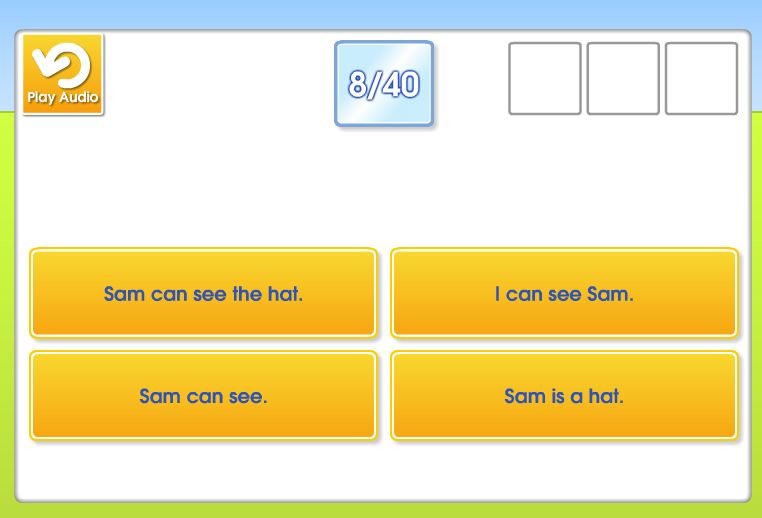 Reading Assessment Question 8
As the kids complete lessons and activities they gain eggs as rewards and progress on their journey. They can track their progress on the map (see below). There are worksheets that can be printed off to reinforce the lessons.
Reading Eggs also has other physical products available to complement the lessons, including flash cards and books.
Reading Eggs Progress Map
As my children are nearly 9 and 11 they did
Reading Eggspress
.
I can start here by saying they loved it!
Reading Eggspress has over 200 comprehension lessons available to the student and over 600 e-books available to read in the library. These books are at different reading levels for 7-13 year olds and include topics on sci-fi, plants, animals, ocean, science, earth science, space, fantasy, myth, comedy and art.
When you first log into Reading Eggspress you are greeted by the 'Floating Island'. From here you can choose to visit the library, the comprehension gym, the stadium or your apartment or the mall. The Apartment is where you can create your avatar, admire your trophies and go on a quest, The Mall is where you can spend the golden eggs you earn by completing lessons and activities.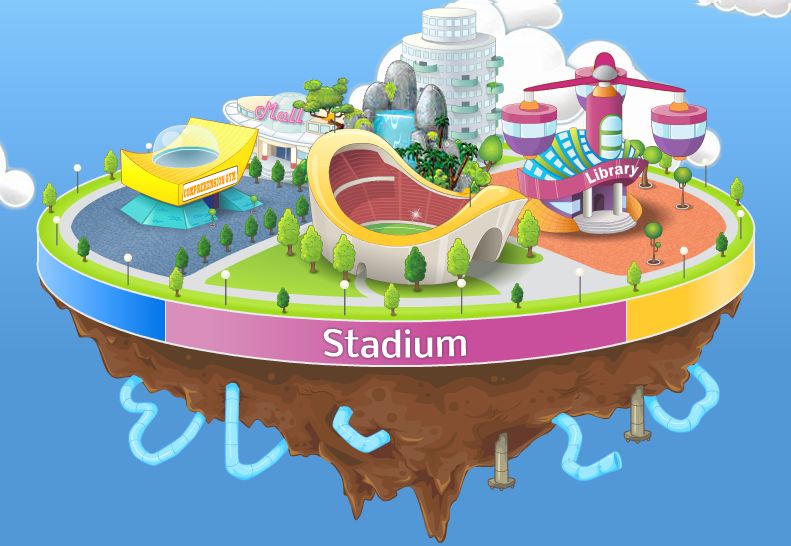 The Floating Island
The Library
At the library you have a choice of hundreds of books to read. If you cannot complete a book in one sitting then simply bookmark it and continue when you next login. Books can also be rated and 'liked'. Once you've read a book you get quizzed on the book.
The Comprehension Gym
Here you do a 'cycling class' where the student uses assessment, interpretation, reading and comprehension skills to answer the questions.
The student picks a book, then answers questions about the cover, based on what is seen. This is followed by an activity using the dictionary, next they make inferences based on part of the text. A few activities later and the student reads the entire book and answers a quizz based on what they read.
Your progress is saved and the student can see which lesson was completed or which lesson they are still to complete.
The Stadium
Here you get to compete agains another user or the computer. The student is tested on spelling, grammar or vocabulary. It is a timed activity. The student can see their progress as they 'race' against their opponent as below: Based on their performance the student can go up to the next level.
The students also have TARGETS which earn them rewards if they are completed. This keeps them interested and challenge them to continue.
The kids absolutely loved Reading Eggspress and would often asked to do another activity even when our 'schoolday' ended.
Parent can view the students' overall progress from the Dashboard.
If you are interested in looking at
Reading Eggs / Reading Eggspress
you can get a FREE 14-day trial by visiting this page
HERE
.