My Chemistry teacher at school was Super Smart (most likely still is).
This was good.
He was head-hunted by one of the largest institutions to do research for them and I'm certain he did a FANTASTIC job.
This was good for him.
He was less good at teaching his subject... to me anyway.
This was NOT good for me.
Teaching Chemistry to my kids up to now can be compared to how an indicator works... off and on; you get the picture! The funny thing is that both my kids LOVE chemistry! I don't hate it, but am less confident with teaching it.... until now (drum roll please....)
Let me introduce you to
Christian Kids Explore
(CKE) Science from
Bright Ideas Press
(Very apt name and also publisher of Mystery of History books).

I was very excited when I was given the opportunity to review the
Christian Kids Explore
(CKE) CHEMISTRY (2nd edition) as part of The Old Schoolhouse Review Crew.
Bright Ideas Press
very kindly sent me the full downloadable Chemistry Curriculum aimed at Grades 4-8. In return for this generosity (and the ability to teach Chemistry more confidently) I provide the following review. I did not receive any other compensation.
So WHAT is CKE Chemistry?
Christian Kids Explore (CKE) CHEMISTRY is a one year Chemistry Curriculum from a Biblical worldview which enables Mums like me to teach their enthusiastic budding scientist actual Chemistry (and learn all the stuff I missed at school)! This is aimed at Grades 4 - 8 (and their mothers).
What did I get with this curriculum?
385 page CKE Chemistry Manual
201 page Student Activity Book
37 page Lesson Plan Booklet
Supply list for each lesson
The curriculum is divided into 30 lessons which is grouped into 5 units which include:
Unit 1: The Basics of Chemistry
Unit 2: Atoms and Molecules
Unit 3: The Nature of Chemistry
Unit 4: States of Matter
Unit 5: Organic Chemistry
The lesson plans:
Each lesson is split up into two teaching days of 60-90 minutes each. The lessons include teaching time, memory work, colouring (if the kids are keen), discussion, vocabulary, review questions, research and hands-on activities. Each lesson is laid out step-by-step so all the hard work is done for you. It is a good idea to prep before the time so you are familiar with the terms and make sure you have all the supplies needed for the activities.
The lessons end with a "Unit Wrap-Up: Show What You Know!" section. This is a multiple questions section, but it is easy enough to adapt it to asking the student questions and writing in their answers if you don't like multiple questions.
How we used it and what we thought about it:
I'm good at reinventing the wheel even though I know it takes so much more time, HOWEVER, this time I did not do it! I simply printed the lesson plans and followed the lessons (applause will be great!). First we looked at which of the vocabulary words the kids new and then they looked up the words which they did not know. My aim was to make flashcards, but as the kids already had science notebooks I got them to write the vocab words in there.
We all took turns to read the passage for the day during which the kids also coloured in the picture for the specific lesson we were doing. Even though we did do some Chemistry before I decided to start with lesson 1. I thought that the text is well written with a clear knowledge of the subject. The text speak TO the reader and does not 'talk down' to them. Scripture and the Biblical worldview are woven into the text in a natural way without 'Bible bashing' anyone.
With the review questions I simply asked the questions and they took turns to answer it. If there were questions that they struggled with, we simply went back to the appropriate section and read it again.
Needless to say that the kids' favourite part was the hands-on activities. I am so grateful for this as it was so good to hear a resounding "COOL!" when I said it's time for Chemistry ... and even better when they asked: "Mum when can we do our science?" Every mother's dream!
I enjoyed reviewing this product and am very impressed with it. I will definitely be returning to this after our break and will look into the other Science products when we are finished with Chemistry.
Other products in the Christian Kids Explore series, include: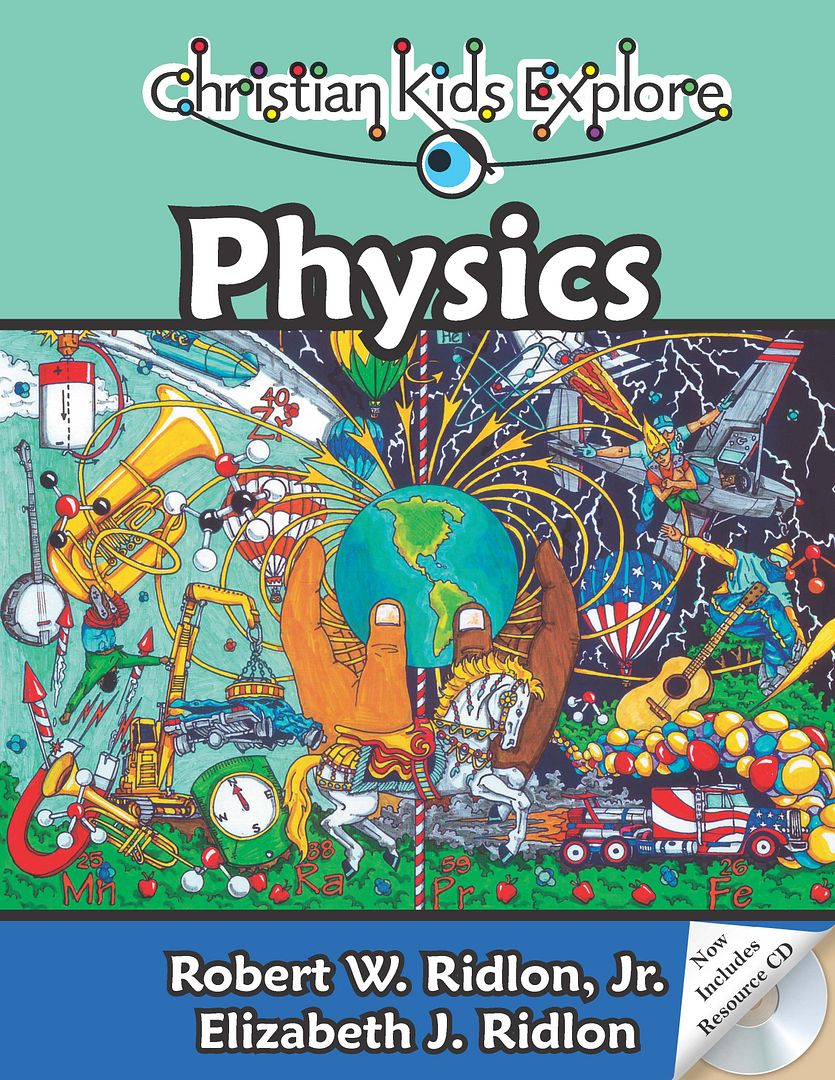 Price
for Christian Kids Explore products:
Chemistry - US$39.95
Earth and Space - US$34.95
Biology - US$34.95
Physics - US$39.95
Taking into consideration that this is a full year curriculum and of high quality, the price tag for this is very reasonable.
Bright Ideas Press
also have many other products which can be found in their
STORE
including Geography, History (Mystery of History), Literature and Maps amongst others.
Here is how to contact Bright Ideas Press:
As with each review, mine is one opinion of many. Please visit the
Crew Blog
to see what other reviews thought about his product.